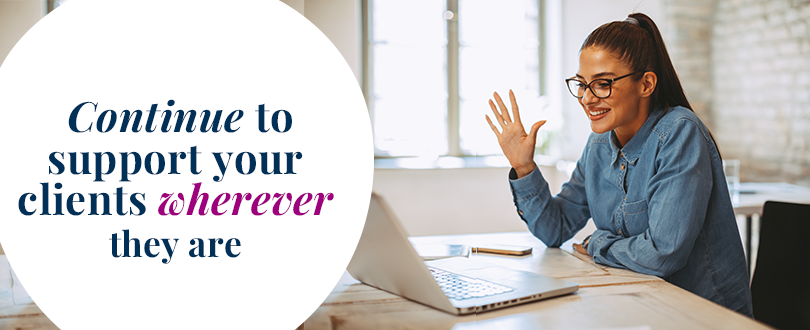 As a leader in clinical assessment, we're committed to providing you with a range of assessment platform options so you can support your clients in the most appropriate way, wherever you or they are.
Our Q-global platform and our assessments on Coviu will provide you with more flexibility and administration choices so you can continue to assess your clients when in-person sessions are not practical or feasible.
We've put together all the essential information, tools, and resources on telehealth into one handy booklet.
---



New digital resources are now available on Q-global!

Secure and reliable, our Q-global platform helps clinicians administer assessments digitally (including via telehealth), generate scores and produce accurate, comprehensive reports.

We have a vast range of our assessments available on the Q-global platform.




We've partnered with Coviu, a telehealth platform, to help you set up your very own virtual and secure practice so that you can continue to support your clients anywhere, at a time that suits you both, in the comforts of your homes.

Currently, we have the CELF-5 A&NZ, WISC-V A&NZ, and WAIS-IV A&NZ stimulus books available on Coviu.

WIAT-III A&NZ, KBIT-2, RBANS Update, GFTA-3, PPVT-5, and EVT-3 coming soon.
Webinars
Learn how to implement telehealth to your practice with our webinars presented by our clinicians as well as experts in the industry.
Premium Webinar - Telehealth Beyond COVID-19
Join a Q&A event hosted by the team at Therapy Connect who will discuss your frequently asked questions and concerns regarding telehealth.
Cost: $30.00 AUD (includes GST)
Register now


Essentials for getting started in telehealth
From video platform selection to pricing, from data security to cameras, there are a number of things to get right when you launch a digital health service. In this session, physiotherapist and telehealth clinician Karen Finnin will guide you through
all of the essentials you need to know in order to take your
health service online.
Watch now


Embracing Telehealth: How to use the CELF 5 A&NZ via Q-global
In this webinar we will explore what telehealth is, factors to consider in deciding when and how to use it, and how to incorporate standardised assessments into your telepractice.
Watch now


Getting started on Coviu with WISC-V A&NZ
Watch now

Pearson + Coviu - Q&As on the WISC-V A&NZ assessment
Watch now

Getting started on Coviu with CELF-5 A&NZ
Watch now

Pearson + Coviu - Q&As on the CELF-5 A&NZ assessment
Watch now